Drake looses to Michael Buble's Christmas Cheer: Canada becomes laughing stock at Juno Awards
----
My fellow Canadians, I am happy to report that William Shatner did an amazing job hosting the Junos [clip - second video below]. He was a very entertaining and charismatic host. One of the comments that Shatner made was in reference to how the Juno Awards are picked. He commented that Rita MacNeil picks the Junos after a few rounds of Jäger bombs. Shatner then corrected himself to imply this was a joke.

I am starting to wonder, if this was really a joke though, after Michael Buble got Album of the Year Award for Christmas tunes... WTF? Are you serious?? This decision either demonstrates that William Shatner was "kidding on the square" or that the Junos Committee is a corrupt organization which is highly influenced by racism, or possibly other corrupt decision making processes. Take your picks.




At The Canadian, we concur with the comments published by Spinner.ca

"The Juno Awards have made great strides in credibility in recent years, but that may have culminated in last year's Drake-hosted crowning of Arcade Fire. The 2012 Junos took a great big step backwards -- and a curiously unnecessary one -- by overlooking Drake's critical and commercial hit Take Care in favour of awarding Michael Buble's Christmas album.

Perhaps sensing this impending award show trainwreck, both Canadian superstars stayed away from the Junos broadcast. (As did Buble's fellow Christmas album nominee Justin Bieber, though he accepted his Juno Fan Choice Award, presented by new protégé Carly Rae Jepsen, via taped message.)

Drake's loss to a Christmas album is as egregious as

Kanye West not even being nominated for a best album Grammy for My Beautiful Dark Twisted Fantasy. Up against two holiday records and a pair of critical failures from Nickelback and Avril Lavigne, it shouldn't have been a contest.

Buble's Christmas album is good for what it is, but what it is a freaking Christmas album. It's hardly an artistic achievement on the level of Drake's Take Care."

If we, as Canadians want to know who is holding us back as a nation from keeping more Canadians at home rather than having to go south of the border for opportunities, we need not look much further than the apparent political hacks who chose the Juno Album of the Year Award.

The Juno's apparent political hacks have made us an international laughing stock for overlooking Drake in favour of Micheal Buble's Christmas Album.


Ironically, it was these same kinds of political hacks which William Shatner once commented on in a TV biography about himself on the Biography Channel. In this TV biography, he said that he did not want to migrate to the States to become a successful actor. But, when he was in Montreal and had sought to go to Toronto that a "Toronto in-group" who controlled opportunities froze him out. As a result, he had to migrate to the States.
It is this same apparent Toronto lead inbred group which had squeezed out Shatner in the 1960's, who was clearly responsible for the outrageous decision against Drake. This Toronto inbred group continues to lead to a brain drain of English-speaking Canadian talent to south of the border. Fortunately, francophone Quebec has developed cultural industries which support and nurture artists. Indeed, Quebecers would never have allowed a francophone equivalent to Drake to be sabotaged by an in-group.
There are more than few Canadians who think that English-speaking Canadians go to the States simply because of money. But, to a large extent this is not the case. There are many Canadians who would gladly want to stay in Canada to enjoy an overall higher quality-of-life, and who could contribute toward amazing made-in television and film making industry, and who could still make "great money" at home.
Television networks like CTV, CBC and Global could be exporting much more made-in Canada television programs and making billions more than they are doing now, selling to U.S. and other foreign broadcasters. We in Canada, have the talent, but instead watch many Canadians like Shatner, Drake, and others, who have to go to the States.
You might ask, if is not simply question of American money, then what is it? Canadians go south of the border because Americans seek to recognize talent which provides for a supportive environment of work opportunities for artists, and in Canada, we, as a society are being dragged down by the kind of political hacks who choose Buble over Drake.


In Toronto, the elites advance the son and daughters who have ties to Upper Canada College, and various other cliques which grew out of the "Family Compact" of the nineteenth century.




As a result of Toronto being the financial capital of Canada, this elite driven culture has spread throughout Canada, and undermines our ability as Canadians to provide opportunities and recognition for our emergent Canadian artists and other entrepreneurial talent. The 2012 Juno Awards was a demonstration to us, as Canadians, of a clique which undermines our vital development as a society.
I like both Michael Buble and Drake as great music ambassadors for Canada. But, let's keep it real. If we, as Canadians, want to know more how Buble got Album of the Year for Christmas cheer, perhaps we should not look much further than the following Wikipedia entry on Micheal Buble:
"In 2000, Bublé's career breakthrough came from a surprising chain of events. An aide to former Prime Minister Brian Mulroney, Michael McSweeney, saw Bublé's performance at a business party and received a copy of Bublé's self-financed independent album. McSweeney showed the album to Mulroney and his wife and Bublé was subsequently invited to sing at the wedding of Mulroney's daughter Caroline, where he sang Kurt Weill's "Mack the Knife". At the wedding, Bublé was introduced to David Foster, a multi-Grammy Award-winning producer and record executive who had worked previously with artists such as Madonna, Brandy Norwood, Whitney Houston, Michael Jackson, Céline Dion, Barbra Streisand, Kenny G., Cher, Josh Groban, and Andrea Bocelli."
Wait a sec… I wonder how Ben Mulroney got that entertainment job on CTV? I wonder if that has anything to do with Ben Mulroney also being related to Brian Mulroney?




...Come to think about it.. Didn't these same Conservatives appoint CTV's Pamela Wallin and Mike Duffy as Canadian Senators, after the Conservatives promised us an elected Senate?


Are we starting to understand how the Juno's snubbing of Drake fits into a pattern of incestuous political patronage over considerations of merit?
Even if Drake sold more albums than Michael Jackson, he still was going to loose, in the eyes of the same in-house clique who runs Canada from behind-the-scenes. The snubbing of Drake at the 2012 Junos was consistent with a fix.
I am from Toronto, and have been a part of the "Rosedale Crowd" etc. etc. and this is exactly how they proceed to "run the country".
This inbred clique operates at all levels of English-speaking Canadian society, and even in the selection of athletes on Canadian Olympic Teams. Why else do you think, for example, that the Canadian Olympic Men's Basketball Team along with other hand picked Canadian teams in various sports are so pathetically horrible in international competitions?
For example, also, why do you think that Alex Baumann had to leave Canada, to go away to Australia. He went out there to develop an amazing swimming tradition in Australia, and away from the inbred clique who sought to control the selection of Canada's swimming team.
This is the same inbred clique decades ago has got rid of the Avro Arrow which had been the world's most advanced jet at the time under then Prime Minister John D. Diefenbaker...




I could go on… And on, about how the decision to snub Drake, was symptomatic of where we are now, as a society under Harper's regime.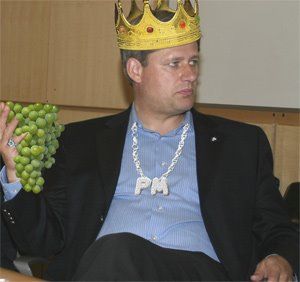 When we as Canadians, can liberate ourselves from an inbred clique who apparently controls the Juno Awards (and Parliament Hill) and who deny such artists as Drake, proper recognition, will be when we, as Canadians, will begin to facilitate the synergistic cultural development our society into its true potential as an even more dynamic, progressive and cosmopolitan society.
As Canadians, let's view this disgusting 2012 Juno selection occurrence as a wake up call on where our society is. Why can't we, for starters, come together and forge a new grassroots version of the Junos. Why should the Junos be the only nationally recognized Canadian award of its kind?


In so doing, we can hopefully use such a new Canadian award inspired by artists across Canada, as a new focal point to show both our recognition and desire to encourage Drake and other Canadians who are inspired by Drake's unquestionable success across Canada, and internationally.
Indeed, the Junos has shown its total lack of credibility as a representative Canadian award show. The Junos Committee apparently speak for the self-anointed "blue blood" clans. These clans continue to run Canada into the ground, with particular reference to the "Mulroney's clan "Free Trade" sham, as not being apparently in behalf of most Canadians.


PHOTO: Former Prime Minister Mulroney talks with Henry Kissinger who is a reported member of the "super-elite".

If you have not heard Drake, click video above. Then compare that track to Michael Buble's Christmas cheer.
The Canadian is a socially progressive and not-for-profit national newspaper, with an international readership. We provide an alternative to the for-profit commercial focused media, which often censors vital information and perspective of potential interest to the diverse Canadian public, and other peoples internationally.
Become a member of The Canadian, with your donation-pledge. Help support independent, progressive, and not-for-profit journalism.

---- ----